Following Jesus' example, we believe in serving one another and the people in our community.  Our members and friends serve in various ways, from leading Bible studies in our Sabbath School classes to sharing healthful living tips with our neighbors to providing food for families in need. 
 
Following are some of the ministries our congregation shares within our church or in our community. 
​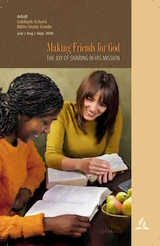 ​Adult Sabbath School classes.  We usually have two adult classes.   Both are presently using the standard study quarterly  ​​(shown at right) and schedule of most Adventist churches.  One class is a lecture/question format, and the other is more of an informal group discussion.
You'll be welcome in either class. If you want to review the standard quarterly's discussion topic in advance, you can find each week's
current lesson here
.
  (These lessons are also available in
Spanish
.)

Children's and Youth Ministries:
  - Sabbath School classes for children from toddlers to High School
  - Vacation Bible School
  - Summer Camp
  - Winter Ski Weekend
 
Prayer Meeting -- most Wednesday evenings at 6:30.
"Life of Paul" video series

"Footsteps of Jesus" video series

Creationism, Intelligent Design presentations

Bible study classes for inmates at a nearby jail and a Federal prison

Community Service ministries:
  - Treats not Tricks
  - Food Pantry
  - Main Street Mission breakfast
  - Lunches for emergency responders
Health Ministries:
  -
CHIP
(Complete Health Improvement Project) program
  - Healthful Cooking School
  - Stop Smoking workshop
Bible studies
  - Bible Marking classes
  - Neighborhood Bible studies (See our
"Bible Study"
page for details.)